Tutorial 1: First Steps¶
Context
In this tutorial, we use a single-phase flow solver (see Singlephase Flow Solver) to solve for pressure propagation on a 10x10x10 cube mesh with anisotropic permeability values. The pressure source is the lowest-left corner element, and the pressure sink sits at the opposite top corner.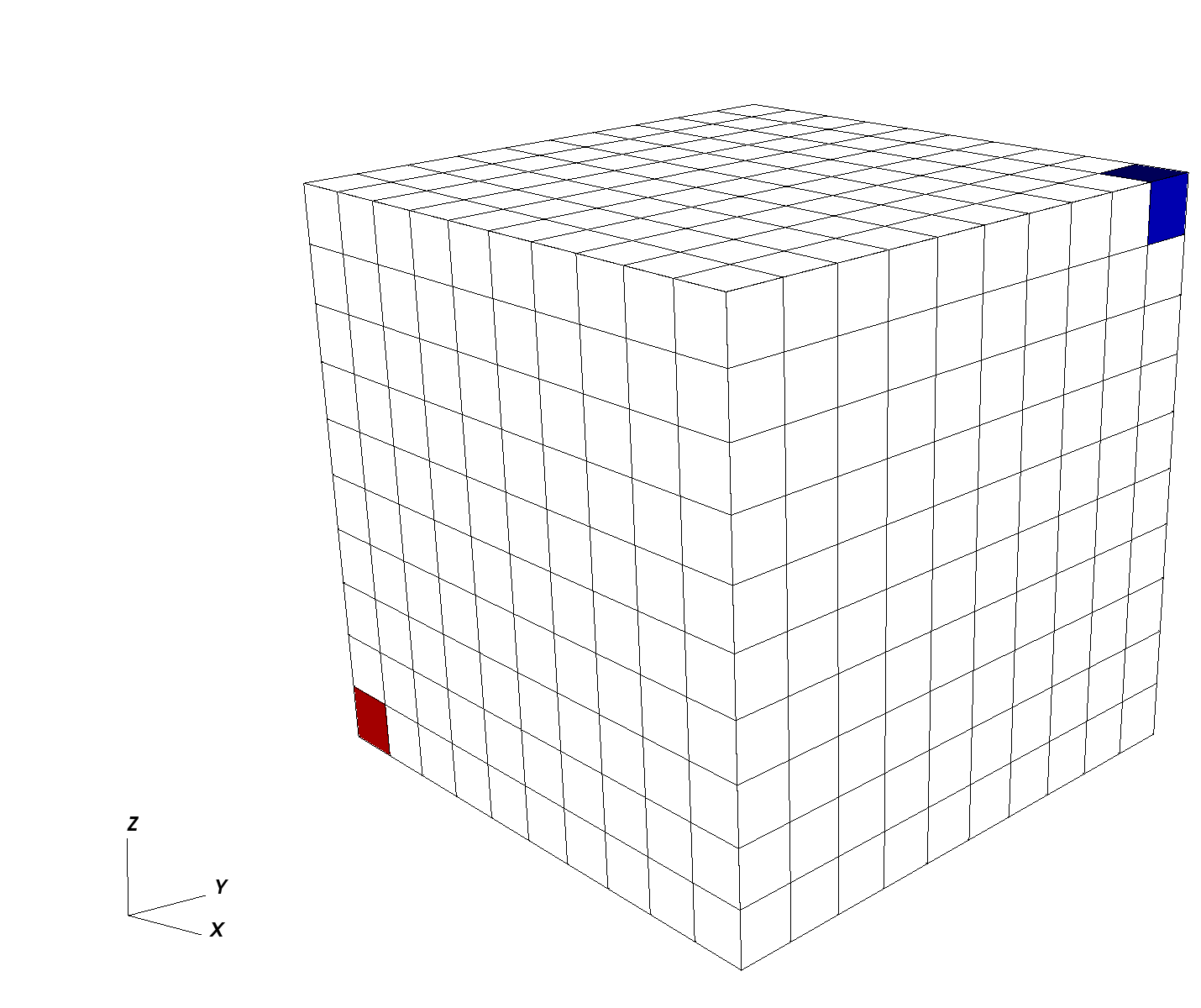 Objectives
At the end of this tutorial you will know:
the basic structure of XML input files used by GEOS,

how to run GEOS on a simple case requiring no external input files,

the basic syntax of a solver block for single-phase problems,

how to control output and visualize results.
Input file
GEOS runs by reading user input information from one or more XML files. For this tutorial, we only need a single GEOS input file located at:
inputFiles/singlePhaseFlow/3D_10x10x10_compressible_smoke.xml



Running GEOS
If our XML input file is called my_input.xml, GEOS runs this file by executing:
/path/to/geosx -i /path/to/my_input.xml



The -i flag indicates the path to the XML input file. To get help on what other command line input flags GEOS supports, run geosx --help.
Input file structure
XML files store information in a tree-like structure using nested blocks of information called elements. In GEOS, the root of this tree structure is the element called Problem. All elements in an XML file are defined by an opening tag (<ElementName>) and end by a corresponding closing tag (</ElementName>). Elements can have properties defined as attributes with key="value" pairs. A typical GEOS input file contains the following tags:
XML validation tools
If you have not already done so, please use or enable an XML validation tool (see User Guide/Input Files/Input Validation). Such tools will help you identify common issues that may occur when working with XML files.
Note
Common errors come from the fact that XML is case-sensitive, and all opened tags must be properly closed.